Business
India's 1st 100% FDI in defence project cleared: Sweden's Saab to manufacture latest generation Carl-Gustaf M4 system
India has approved its first 100% foreign direct investment (FDI) in the defence sector, permitting Sweden's Saab to establish a facility for rocket manufacturing. The FDI proposal, valued at less than Rs 500 crore, was given the green light last month, according to an ET report. India currently allows up to 74% FDI in the defence sectorthrough the automatic route, with clearances beyond that available on a case-by-case basis.Despite relaxed clearance rules in 2015, no foreign company had previously received approval for 100%FDI in defence.
A new company, Saab FFV India, has been registered to produce the latest generation of the Carl-Gustaf M4 system, with the facility likely to be located in Haryana. It will feature advanced technologies, including sighting technology and carbon fiber winding for the Carl-Gustaf system, according to the financial daily's report. These shoulder-fired rockets are extensively used by the Indian armed forces and can be exported once local production commences.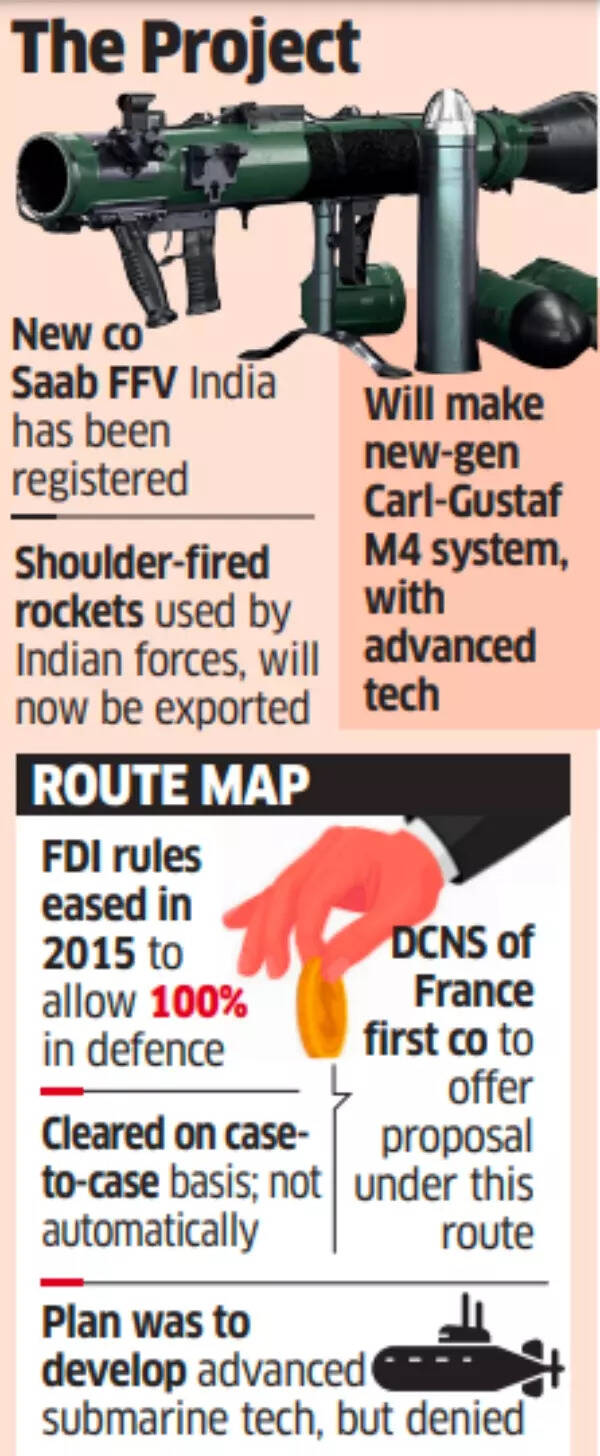 Carl-Gustaf M4 system project
Mats Palmberg, Chairman and Managing Director of Saab India, expressed pride in being the first global defence company approved for 100% foreign direct investment by the Indian government for their new Carl-Gustaf manufacturing facility in India. ""This is another step in Saab's commitment to 'Make in India,' and we look forward to continuing our collaboration with our Indian partners and to supporting the Indian armed forces with production of Carl-Gustaf in India," he was quoted as saying.
India begins formal acquisition process to procure 26 Rafael-Marine fighter jets, submarine deal also likely
The production is set to begin next year, marking Saab's first Carl-Gustaf M4 production line outside Sweden. This shoulder-launched weapon system is utilized by the US, European, and Indian armed forces for taking down fortified enemy positions, armor, and personnel.
In 2016, French company DCNS sought approval for 100% FDI to establish an Indian subsidiary for developing advanced systems to enhance submarine underwater endurance. It had applied for authorization to invest more than Rs 100 crore in DCNS India Pvt Ltd for the development of advanced and crucial defence technologies. However, it did not receive the necessary permissions.